TRITIUM EL LARGO 4 VARIETIES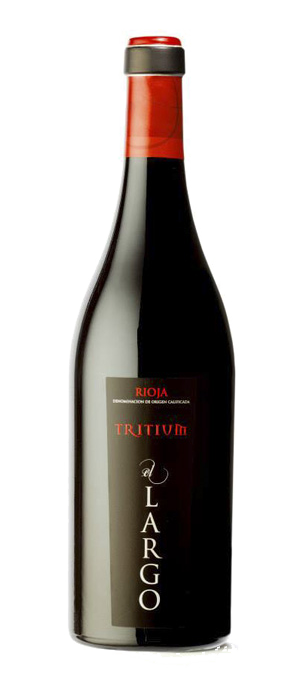 Denominación de Origen Calificada:
55% tempranillo, 15% garnacha, 15% graciano, 15% mazuelo.
Vineyards located in Cenicero (heart of Rioja Alta). These old vineyards are between 90 and 110 years old. The care of these vineyards is a highly integrated ecological agricultural process. They have been fertilized with manure for 25 years. Predominantly calcareous clayey soil in boulder lands. The production of these vineyards is inferior to 1 kilo per strain (2800 kilos per hectare or 20hl per hectare).
This wine has been kept in brand new French oak barrels of 500 litres for 23 months.
Colour: intense cherry, clean and bright high layer, violet rim.
Nose: Strong, silky fruit, complex, elegant, intense
Mouth: Fleshy, fruity, structured and lasting.
Analytical Data:
Alcohol (%) vol. 15%
Azucares residuales (g/L): 1,2 g/L
Acidez total (g/L): 4,8 g/L